How to manage your WordPress site
WordPress is an incredibly user-friendly and effective way to create websites that look good and that can be easily managed. However, it is important to observe a few basic rules and procedures in order to keep your WordPress website up-to-date and fully optimized.
First things first- In order to manage your WordPress site you have to login to the administrative panel . Simply type in your username and password and you enter the main dashboard area.
 

Creating  WordPress posts.
Creating posts and pages are of course at the heart of your  weblog and this is where WordPress shows its value in creating an interactive and dynamic website. On your Dashboard sidebar click on Posts and "add new" .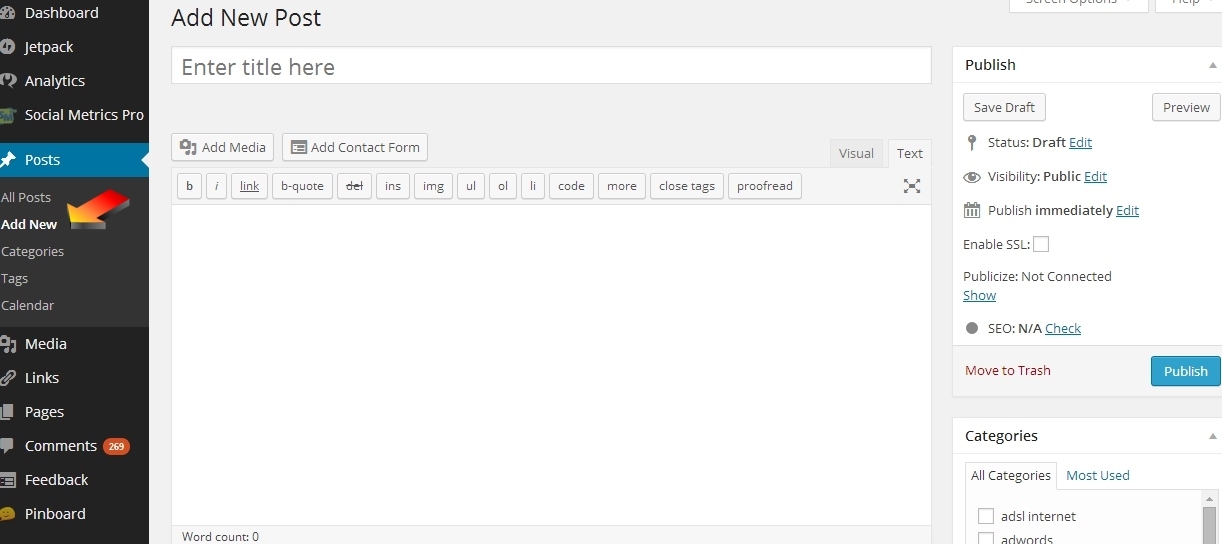 In this area you can add the title of you post as well as the content and then simply click "publish" for your post to appear on your blog.
Adding images and other media is also a straightforward process. Click on the "add media" link, this will take  you to a library of images that you can use to insert into your post. To populate the library you can upload images from your computer and place these in your post.
A similar process is involved if you would rather create a page and publish that as permanent part of your your website. Simply click on Pages from your Sidebar in the dashboard and then select " add new" and you will be taken to an interface where you can add your title, text and media.
WordPress housekeeping:  Updates.
One of the first things you should so is to to make sure that you have the latest version of WordPress and that your plug-ins are up-to-date. WordPress provides everything you need to this on your site dashboard. Simply log into your site and go to the dashboard and click on " updates". This will take you to a page that will allow you to update all your plug-ins with a click of a button. Make sure as well that you have the latest version of WordPress installed. 
Managing your content
Managing your content is an essential part of running a dynamic blog or website. A site that is not updated in terms of content can become stale and is seen to be inactive by the search engines.  Fresh and interesting articles and updates to product or service pages is a sign of an active site that is alive and not just a static advertisement.
One of the best ways to manage the content of your blog posts is to use an editorial calendar. WordPress Editorial Calendar, for example, is a very useful and simple way of organizing your publishing schedule. Here is a snapshot of this plugin …
Managing your Cache
The speed at which web pages load from your site is a very important factor in the way your site is received by viewers. WordPress caching is the fastest way to improve performance. In order to cache your website pages  install a plugin like WP Super Cache. Caching means that you create a static page  that can be accessed more rapidly – this does not mean that your viewers will see old pages. In fact caching can be set so that it can be refreshed at certain intervals and can be tweaked according to your requirements.
SEO
SEO or search engine optimization is a  vital aspect of promoting  your web pages and making sure that you are visible on the search engines. Each page and post on your site should be optimized for the most effective keywords.  One of the advantages of WordPress are the very effective plugins that can be installed. A plugin like Yoast allows you to manage your SEO of each page and page in a very easy manner.
Comments
If you decide to use the comments facility on your posts these should be monitored and managed on a regular basis. By default WordPress allows you to approve all comments before they are  published. This prevents any "spammy" comments  to be deleted.
Backups
Backups are an important part of the management process. For a full overview of the backup process in WordPress have a look at http://codex.wordpress.org/WordPress_Backups. There are a number of good plugins that will make the process of backing up your files an easy one click process. A simple but effective plugin that you may like to try is  BackUpWordPress. There are a number of very effective application that allows you to manage numerous WordPress sites. One of the more effective of these is http://managewp.com/. This application allows for a wide array of management functions that can be quickly applied to different blogs.